Mead Club Coming Soon...Plus More Updates
We've been hard at work since the grand opening of our taproom on August 29, 2020. Our mead has already been shipped to 6 states, there are multiple barrels filled with mead that should be going into bottles in the next month or so, more batches of mead are being started, session meads should be available in cans soon, we started offering free WiFi, and the final touches are being put on our mead club...the Kupfer Klub "Copper Club".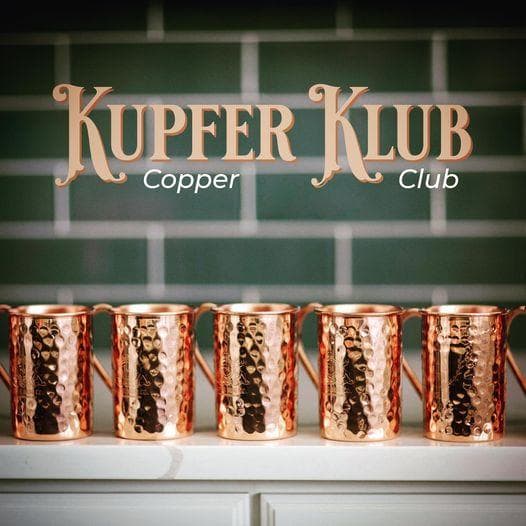 About the Kupfer Klub "Copper Club"
We absolutely love making mead and sharing it with you...and your continued support will allow us to keep exploring this craft and sharing the quaffable works of art with you. For those of you that want to flaunt your patronage a bit and enjoy some special privileges as well, we will be launching our exclusive mead club soon.
As a member of the Kupfer Klub "Copper Club" you will receive your own copper mug engraved with the Waldmet Cellars logo that can either be prominently displayed on the wall of our taproom or mailed to your home for enjoyment. You just let us know which you prefer when joining. There will be varying club rewards as well, depending on which option you choose (in person or at home). More details coming soon.
Now Shipping to 37 States
We have partnered with VinoShipper so we can ship our mead to 37 states. Currently, only our bottled meads are available for shipping but we will be adding canned session meads soon after they're available for purchase in the taproom. Visit our online ordering page.
Now shipping to AK, AZ, CO, DC, FL, GA, HI, IA, ID, IL, KS, LA, MA, MD, ME, MN, MO, NC, ND, NE, NH, NM, NV, NY, OH, OK, OR, PA, SC, TN, TX, VA, VT, WA, WI, WV, WY!
Session Meads in Cans
Our session meads will continue to be available in growlers but to keep them fresher longer, we will start offering them in cans soon. The can seamer has been delivered but we are working through some testing to ensure product quality and are designing the labels that will adorn them.
Upcoming Mead Releases
It's hard to miss the oak barrels stacked in our taproom. The meads that are contained inside them and a few others will be ready for bottling in the next month or so. Here is a quick list of what should make it's way to our taproom soon:
Bottled Meads
Gewürzapfel "Spice Apple" - Cyser crafted from wildflower honey, Northern Spy apples, and flavored with a blend of Chai Spices - Semi-sweet • 13% alc./vol.
Pfirsichkuchen "Peach Pie" - Peach mead crafted from mesquite honey, peaches, maple syrup, and flavored with vanilla and star anise - Semi-sweet • 13% alc./vol.
Barrel-Aged Meads
Apfelhonigwein "Apple Honey Wine" - Cyser crafted with wildflower honey and Northern Spy apples then aged in a Woodford Reserve Bourbon barrel. - Off dry • 13% alc./vol.
Höhepunkt "Culmination" - A mead inspired by the Manhattan cocktail. Crafted with organic wildflower honey, tart cherry, and 16 different aromatic and bitter herbs then aged in a Templeton Rye Whiskey barrel. - Off dry • 13% alc./vol.
About Waldmet Cellars
Waldmet Cellars is an artisanal farm winery in Jasper, GA that strives to handcraft the highest quality meads and wines using honey, fruit, and herbs produced on their farm and by other local producers. Their products push creative boundaries, highlight the ingredients, and delight taste buds.